April 9, 2012
Dear Anne and Carter:
Yesterday was Easter, and my eyes teared up as they do most weeks, as I watched the children file into our 'rockin' Gospel church' (www.innerlightministries.com). Not too many people had on 'Easter bonnets' as I did. But as that tune of a very old song went came to mind  " … with all the frills upon it … dah-dah-duh-do-to … as we walk down the Ave-a-nue, Fifth Ave-nue … in the Easter … Pah-rade," I remembered what a big annual holiday that was when I was your age. Every year my mother used to sew three matching Easter outfits for my sisters and I. Who knows where she got the matching hats.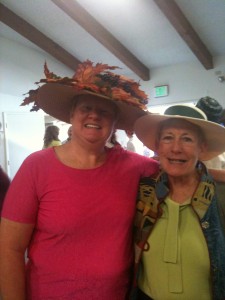 And of course, the Easter bunny always came leaving huge baskets of marshmallow chickadees, jelly beans and chocolate bunnies. He (never she) had hidden all kinds of eggs that we had spent hours dyeing and decorating the weeks before. It was great fun, as was the family meal with cousins and aunts and uncles: usually ham and scalloped potatoes.
Yes, we knew that this holiday was about that famous figure Jesus Christ, who had been hung on a huge cross to die the Friday before, and mysteriously arose alive from behind a rock that blocked a cave, on Easter morning; but I didn't really 'get it' back then.
Today I was just sad that I have absolutely no idea of whether or how either of you know 'the true meaning of Easter,' or even know what God is. Of course I want you to have the fun of the Easter egg hunts, and eat all the candy and ham and yams you like: but deep down I wonder if you are being raised with any sense of spirituality or religion. I guess I will have to just imagine that you are; and hope that you will come to understand this powerful force and come to your own understanding of the meaning of life, someday.
In my chosen 'new thought' religion, my minister prefers to call Easter "Resurrection Day." After our now world famous Carnegie Hall Choir belted out a song written by her partner and choir director "Resurrect me lord … Heal me of my old ways, oh lord, Resurrect me, lord… heal me of my own ways.' (www.valeriejoifiddmont.com) … Our minister went on to give us a new take on fundamental Christianity. She asked us to think of Easter as a time of renewal, a time not only when one widely followed healer 'died for our sins to save us,' but more of a time when we are reminded of that Christ presence within us. Renewal means we die to old habits keeping us from being all that we can be. Reverend Deborah told her audience of 500+ and hundreds of others that streamed it live on the internet, that the Easter story is a reminder that this spirit, the one that some call Jesus Christ, is within us and cannot be killed. It's just waiting for its wonders to be revealed!
Anne and Carter, this is all too complex for me to explain to you right now, this way, in letters Please just know this Invisible Grandma is wishing she could be there year after year for celebrations of this kind. I send you unseen, all the love and guidance you will need as you grow up. I hope you don't develop too many bad habits in need of resurrection.  As your invisible grandma I am following your path as you begin to understand and practice whatever religion you may choose (or not). Blessings to you.
Yes, I love you. And yes, I believe there is a god that loves you too!
Happy Easter! And Happy Resurrection Day.