October 24, 2012
Dear Anne:
Happy Birthday! Wow … you have been growing up a full decade, ten years!
I can hardly imagine what you must look like, or what type of birthday party you and your very creative mother have planned. The last one I went to you were three. It was ninety degrees outside, held in a park, and the kids all waded in this tiny creek. You got a green and yellow ride-em tractor just your size. I wonder where that is now.
On your "brother's" 11th birthday … did you know that your biological father gave me another grandchild who lives on the East coast in rolling farm country? I guess that makes him your brother, but maybe there's another word.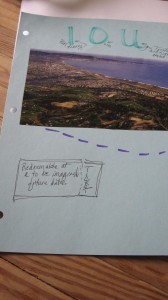 Anyway, he knows he's adopted now, and that I am his 'real' grandma, so I get to send presents. He has a dyslexia problem with reading, so I don't send books anymore; but on his 11th birthday I sent him this I.O.U. card "Redeemable at an imaginary future date."
It had an air view photo of the Monterey Peninsula and then snapshots of all the places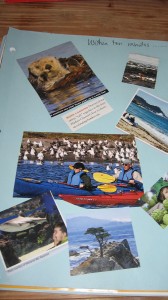 within ten minutes of my home that I'd like to take him someday: kayaking in the Elkhorn Slough seeing sea otters close-up, the Aquarium, hiking in Big Sur, having lunch on the beach near Lovers Point in Pacific Grove. If I could send you a card like that, it would include all of the above, as well as some girly lunch at a fancy restaurant with a view of the ocean. I still remember the time my grandmother took me to The Top of the Sixes in a skyscraper in New York City for my 13th birthday. Hmmm … put that on your list of possibilities, I'd love to do the same for you.
So what are birthdays for really? They are a reminder of time. Time that is passing no matter how old you are, and how our lives and bodies change as we mature. I just recently went to a Joan Baez concert at Esalen on California's coast. She is a world famous singer, songwriter, musician, and a prominent activist in the fields of human rights, peace, and environmental justice.
It was the 50th anniversary of when Joan drove across the country in a Corvair (a very old car they don't make any more), with a boyfriend and a baby she had to feed on formula that she had to dilute because she was so poor. She helped found Esalen, a place where people from all over the world come to soak in natural hot springs and study in workshops with visionaries who have written books about just about everything. By now Joan Baez has released 30 million-seller albums, most with themes of "great social and political import like peace and love and god. Oh how I wish we could have conversations on these topics.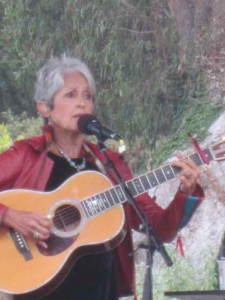 Joan Baez is 71, just 4 years older than me. And get this, her 99 and ½ year old mother was in the audience!! Can you catch the intensity in her eyes? Wow …. I don't really want to live that long, but if I was in good health … had all the help I needed to get around, and a daughter or granddaughter to visit and see perform, heck, why not!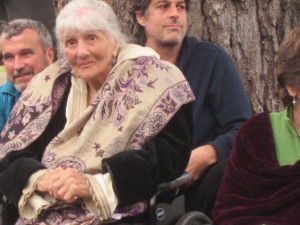 Enjoy your birthday. On my 30th one of my friends told me to "create your own birthday ritual or celebration." She said not to wait for family or friends to surprise you … just choose some good things to do for yourself. I always get a massage, sometimes even at Esalen, and always have lunch with some special women friends. I'll imagine what you will choose to do as you get older.
Love,
Invisible Grandma PAT