December 4, 2010
Dear Anne & Carter, no, actually this is for Suzie: Anne's mother:
Holiday seasons are hard on invisible grandparents! Do you realize that?
Is there room for me, the biological grandmother of your firstborn, in that mind and memory of yours? Oh how I wish that were the case.
I am taking a class at my church, the rockin' new thought inspirational InnerLightMinistries.com with its 85 member gospel choir in Santa Cruz, where every time I see the children come in, I tear up thinking of Anne. The course taught by Reverend Deborah Johnson herself, is on 'Healing Family Relationships.'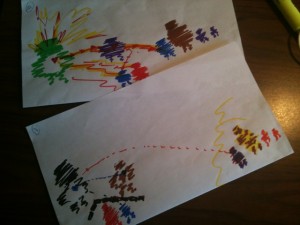 We had to draw pictures of an issue we'd like healed, then one seeing that done, and write affirmations about the spiritual qualities it would take in me, to accomplish that. Then we had to affirm that for others involved. Here's what I wrote and have been saying to myself for several weeks:
• I have the patience and acceptance that will help me fully BE with this situation.
• I forgive myself and all others that contribute to this separation.
• I let go of judgment and anger about Suzie, Brian and about myself as a parent.
That's enough. I truly wish them for you also, what a Christmas gift it would be to reconcile with you. Brian has been back in my life, albeit peripherally, for two years. He walked in to a Thanksgiving in San Diego in 2008 with his brother who had just gotten back from Iraq and said "I'd've called mom, but I wanted to see the look on your face and give you a heart attack!"  Always the comic that boy, but I loved him then, and before and after. He's living in the mountains and is a ski patrol in the winter, and tree cutter in summers. He sounds happy and healthy and can't be doin' what he was doing when you split, or he wouldn't look and sound this good. His call this Thanksgiving was long and sweet. Praise the lord! Thank the goddess … or whatever you believe in.
I hope you are not going too crazy (or building up too much credit card debt) making Christmas wonderful for your three girls. There was an article in the paper today about a book on making your own Christmas gifts: (Make These Toys: 101 Clever Creations Using Everyday Items by Heather Swain) … if I had your address, that's what I'd send.
Blessings to your entire family,
Invisible Grandma Pat