February 18, 2011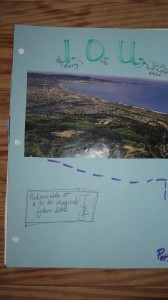 Dear Carter …  Happy Happy Birthday Ba-a-aby!
How great to talk to you on your birthday!  As you can see from the collage birthday card I mailed … the theme is "Eleven is Huge!" What I meant is that your teenage years are just around the corner, and your years as a 'little kid' are definitely behind you. I hope you had a great day February 18th.  I didn't really know what to say, nor how to say who I was. You just know me as California Pat.
Your card is a certificate for a trip to California 'redeemable' at some future time and date, that your parents agree on. I highly suggest winter vacation. Right now in February as it only goes down to the 40's at night, and I had a long beach-walk in the sun today. It was 55degrees outside. Great skiing in the mountains if we drive there when there isn't a storm!
I'm glad you at least said you'd keep in mind my idea of giving your mom some sort of card or present on your birthdays, for all the 'work' she did bringing you into the world that day in 2000 and since. She's been keeping me in touch with your progress I hear school's better this year … whew! But I heard you've been having some "anger issues" with your 7 year old brother, that got so 'bad' that you got grounded and weren't able to go to Baltimore with your Grandma. That must've felt AWFUL!
I am so sorry things got out of hand. I know how difficult it is sometimes especially for boys to get along, especially sharing a tiny bedroom … I sure hope there is some other way (pounding pillows? taking a long run or bike ride? Screaming it out in a dark closet somewhere safe?) that you can still express your feelings and get along.
So be WELL Carter, were we closer, I'd've loved to be there for one of the two parties I hear your amazing mom organized.
Love,
California 'Grandma Pat'