I did it! 'had  200 crones (a.k.a. older women) rolling in the aisles! Without much training or preparation either. 'cept knew I follies was coming and kept scribbling notes on 3×5 cards all week. 'Aging Positively – Question Mark' was my second stab at stand-up, the first being 'Living Life Lubricated,' two years ago same audience, larger crowd in Seattle. Earlier today one woman left a voice mail on my phone two weeks later, just to tell me how wonderful I was. I saved the message o I can play it over and over next time I'm down.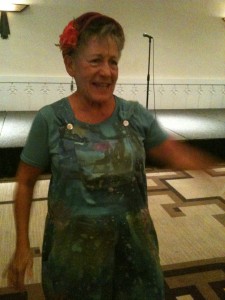 Ohh-kay … some of the material was not my own. After ribbing them about how I wanted to do an Un-croning at 65, just 5 years from the two 60th birthday celebrations I gave for four dozen of my closest friends on East and West coasts. Back then we all wiggled under a limbo line and 'welcomed and embraced' our aging and our wrinkles. Today the health challenges I've developed in the past five made me rethink this aging thing. IF the video from my i-phone translates, I'll put it up here. Next performance I'll get one on You-Tube.
I did sneak in this 'Public Health Alert' near the end after a diatribe on seeking medication for mood swings, the prescription for which might better have been money (that's always been good for my mental health) or a cross country road trip to hanging out with  200 women.
Here's someone's hilarious idea of a generic name might be for … guess what
"All drugs have two names, a trade name and generic name. Example, the trade name is Tylenol and it's generic name is Acetaminophen. Aleve is also called Naproxen. Amoxil is also called Amoxicillin and Advil is also called Ibuprofen.

The FDA has been looking for a generic name for Viagra. After careful consideration by a team of government experts, it recently announced that it has settled on the generic name of Mycoxafloppin. Also considered were Mycoxafailin, Mydixadrupin, Mydixarizin, Dixafix, and of course, Ibepokin.

Pfizer Corp. announced today that Viagra will soon be available in liquid form, and will be marketed by Pepsi Cola as a power beverage suitable for use as a mixer. It will now be possible for a man to literally pour himself a stiff one. Obviously we can no longer call this a soft drink, and it gives new meaning to the names of 'cocktails', 'highballs' and just a good old-fashioned 'stiff drink'.  Pepsi will market the new concoction by the name of:  MOUNT & DO.

Thought for the day: There is more money being spent on breast implants and Viagra today than on Alzheimer's research. This means that by 2020, there should be a large elderly population with perky boobs and huge erections and absolutely no recollection of what to do with them."
Stay tuned …