I woke up with the tune of this Beach Boys song running through my head:
"Help me Rhonda, help help me Rhonda
Help me Rhonda, help help me Rhonda
Help me Rhonda, get her out of my hea-rrt."
Now I probably hadn't heard a Beach Boy's song on the radio in years, and I don't think I've uploaded any to my i-pod, though I know there's probably a vinyl album or two sitting in boxes in my garage ready to be sold on e-bay.  But Friday night we couldn't resist the temptation to go to The Henry Miller Library in Big Sur for Al Jardine's debut concert for his new solo CD Postcards from California.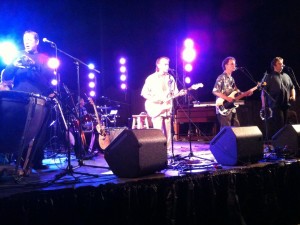 As we walked in, the only two seats left were in the front row directly in front of a speaker taller than I was. Expletive deleted-it! My ears are already bad, can't get any worse I thought, as I noticed a remarkable resemblance between the 30-something percussionist on a huge base drum right in front of me and Jardine. (His two sons were performing with him). Close enough to wonder how he dyes that reddish hair, and whether he's had very good hair transplants. It was dark so I didn't have time to turn around and look at the rest of the crowd, but from the looks of those I got up and danced with, the average age was like me, pre-baby boomer, cusp or older. And dammit, we look great! And most of us still remembered all of the words to the songs and sang them out loud or … or else lots of us were faking it gracefully.
WHAT an experience! Now I know why front row tickets to Eric Clapton, The Rolling Stones, or Van Morrison cost so much. And this was right here 'in our neighborhood,' just a 40 minute breathing taking sunset drive down California's famous High-way One. Thank you universe for where I live. I got to taste upfront a part of music history! For $35. Thank you Al. Thank you god. I live on a world class piece of the planet. That's what his album was about. Complete with spoken poetry, and Beach Boys' rhythm, it was a valentine to California's coast between Monterey and San Simeon. Go buy it!