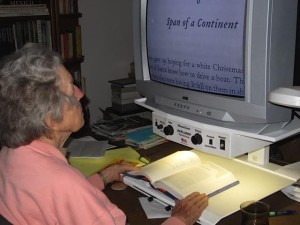 "They should send GW over there to Iraq right now to see the mess he created," my 88 year mother-in-law said, squinting at the 6:00 news, turning up the volume, waiting for the 7-8:00 p.m. version filtered through her favorite newscaster: John Stewart on The Comedy Channel."
I've been doing 'Omama-care' for ten days giving Larry's' brother some respite and it's been a piece of cake. Water a few plants, dust where the surfaces haven't seen light, cook dinner and pour wine while she watches the local news of shootings and police chases, neighborhoods gone, high rise multi-plexes and crime moving in to the once rural San Diego El Cahon and Lakeside she emigrated to from Kansas in 1953 @ 16.
My mother-in-law is sharp as a tack, but going blind. Macular degeneration beyond treatment, she wanders her home pretty safely with thick glasses, the left eyepiece a circular magnifying glass. She reads, comics first, in the (Republican) San Diego Tribune every morning with a magnifying glass. My job is to bring it in, so her feeble steps don't slip on macadamia nuts that drizzle the driveway. Later in the day she'll hobble on her walker to place hardback bestselling books or The Sunday New York Times, or The New Yorker under a Microfiche machine. Body slowing, mind not. Praise god
I'm blessed to have this in-person one on one time with the mother who gave all her children, especially my husband her firstborn, such an active mind and large ability to love.
Let me stop now and say goodbye … take a picture of her 78 pound bird self, and wish her Salud!: GoodHealth … for as long as she can.
It's so fascinating to ask questions and hear stories about relatives I never knew I had. When I volunteered to draw a family tree she said, "You'll never be able to do it; ours is not a family tree … it's is a forest!" she said excitedly, remembering the names of the wives and grandchildren her second-born son had a by both genetics and three marriages, giving her1 11 bbiological grandkids, untold number of extended family ones, and now two great grandchildren. But come up with a visual resembling a sociogram or tree-chart. Impossible … the forest is overgrown with underbrush.
Acceptance is Maxine's, middle name … it is beneath the unspoken, the silence, that is deafening in the calm in this home. That's why I love her as I do, though each visit I AM ready to go home to my own HUSband, the son she created just for me. Thank you god.