My husband's 88 year old mother, is a tiny wisp of a thing, 78 pounds, sparkling eyes, smooth skin, mind clear as a tack. Her daily highlight is a dose of John Stewart followed by the PBS News Hour. She definitely is a glorious woman; that is when she isn't having an arrhythmia as she does 3-5 times a month, or when her numb fingers can't slide the on-button to her pad that she reads current best sellers on with a font of 110!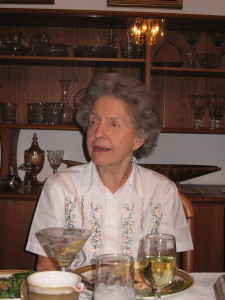 We all age, though Christiane Northrup, M.D. on her PBS Special doesn't look as if she has. We watched it last week and Grandma loved it. As I fixed her dinner because her near blindness from wet macular degeneration, and her near deafness have kept her from cooking, Grandma asked me to get her something smiled and said with tongue in cheek, "but we glorious women don't age." She thanks us for every meal and realizes what went into the plate that magically appears in front of her on the Formica table she sits at most of her days. I am here to give my live-in brother-in-law a much-needed break, and monitor her breathing during the heart-pounding spells that haunt her.
Thank you Dr. Northrup, (age not listed in Wikipedia), in your high heels, tight fitting cap-sleeved dress and smooth skin & silken silver hair for the excellent 7 points you gave covering everything from osteoporosis to meditation. I love your positive thoughts and language. A Ph.D. health educator, 20+ years ago I used Women's Bodies, Women's Wisdom as one of the texts in my Women's Health classes. To this day her approach to aging is a welcome relief to the fear-based television and magazine ads for pharmaceuticals and surgery that are far too common.
We all age … what we need is a way to get used to it, because going out from this planet is far more difficult than the nine months of pregnancy and the few hours of labor it took to come in. So grandma Maxine, rest well during the 10-12 hours your heart beats out of tune for a short while, I thank you for the love that created and reared your first-born son, my "significant equal' and husband of 21 years.