I will be speaking at this FREE webinar. Please pass this notice on. Go to this link to sign up: http://www.grandparentsacademy.com/webinar
GrandparentsAcademy.com and GRAND USA present…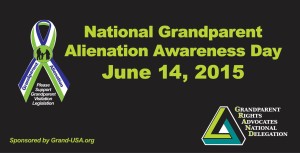 "Grandparent Alienation Awareness day – Creating a Legacy of Love" If you are a grandparent who has been alienated, or know someone who has, you won't want to miss this FREE call! You will get a free mp3 if you cannot listen live. A portion of profits of the just out (!) AudioBook or paperbound  2015 edition of

Invisible Grandparenting

will go to Grand-USA.org.