Every year in June we commemorate and honor the role those men seeded (literally) in our lives. All too often the other 364 days of the year, media harps on the minority of absentee, unavailable, deadbeat or even abusive fathers. But on this one day, and all days, we should remember to thank the 'good dads' who changed all those tiny diapers, got up at 3 a.m. to rock the colicky baby, taught us to ride a two-wheeler, sometimes working two-shifts and two-jobs to support his family. And YES, we need to remember the single moms who play dual roles in their children's lives.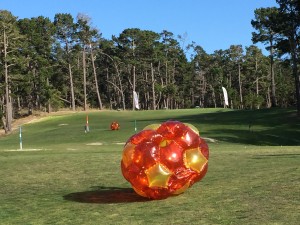 On Sunday I went to the coolest "Fathers Day Blues Festival in the Forest" celebration held on the lawn of Poppy Hills Golf Course in Pebble Beach. It was a $20 a person fundraiser for sponsored by Monterey Jazz Festival's Monterey County All-Star Jazz band, a group of talented teenage musicians on their way to Washington, D.C. What a way for dads, moms and kids alike to bring a lawn chair and enjoy the crystal-blue skies, fantastic music, relax and have fun. They literally built a child's paradise of lawn castles, hula-hoop ring tosses, croquet and jumping jack houses. My favorite was the 3-4' high rolling balls that toddlers could climb inside and be guided down the greens by trained athletic student volunteers.
Refreshments of BBQ and local greens, wine for purchase sponsored by Ketel One, and even a raffle for a day in a Tesla … the next generation's super-sportscar! May they make this an annual signature event drawing the crowds it deserves next year, and up the raffle fee to offer a full Tesla. I'm in!