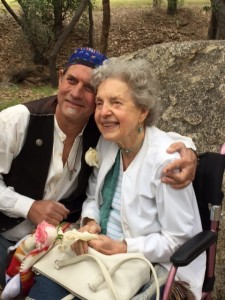 This is Maxine, my 89-year-old mother-in-law, at her second-born son's fourth wedding this week. Probably three-fourths of those pictured on the rock are descendant from her gene pool. You can tell from all the faces how much love she's passed on. I once asked her if she'd help me draw a family tree. She replied smiling "you won't be able to do that, ours is a family forest!" Great grandma has four biological children, five grandchildren, and eight great grandchildren not counting 7+ children of her ex-daughter-in-laws. And get this: every year she remembers to send birthday cards to the three ex-daughter-in-laws, and me whose been lucky enough to have inherited this family for 22 years and counting.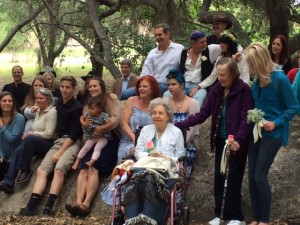 There are so many permutations and combinations of F-A-M-I-L-Y and ways people mother, nurture and matter to one another. All of us have cared for something, even if it's a litter of kittens or puppies, a garden, or a human growing. We did the best we could in both difficult and good times. I ask each of you, especially those who may be estranged from adult children or even grandkids, to honor the process. To remember the grace that has brought you to this moment. And to model the acceptance that my mother-in-law has demonstrated over the years.
Last but not least, today of all days, remember to "grandmother yourself." Think in possibilities and whisper in your own ear, what you'd like your grandma to say. None of us are getting any younger. Let's remember that the holiday of mother's day was founded for mourning mothers to remember their fallen soldier sons and work for peace – after the carnage of the Civil War. Think, act and BE peace today in all ways.