Bruce, the "man," just finished a sold out six-week solo performance in New York city's Springsteen on Broadway. Those who were able to get tickets for hundreds of dollars had to squint from their seats to see that jaw, that face, and hear that voice melodically put his powerful message before them. But thanks to Netflix and closed captions you can now have a front row seat. It may be word for word from his deeply evocative memoir, Born to Run, but we viewers cannot detect the teleprompter as two hours of his spoken word moves us through his life.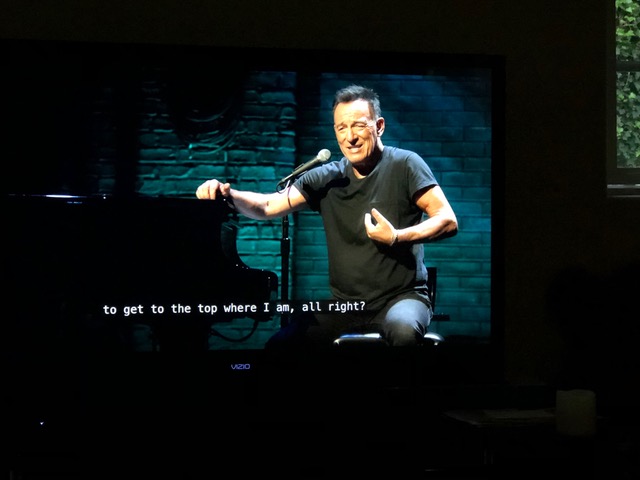 He traces early childhood through his days leading bar bands in Asbury Park, New Jersey. "My Hometown" is an ode to his hometown of Freehold, while "My Father's House" and "The Wish" (a sweet song about his mother that debuted at his 1990 acoustic shows). Both of his parents are remembered faults and all, in loving but clear-eyed detail. I was particularly moved when he returns to Freehold and finds nothing left of a favorite tree but the stump. Much of the play focuses on his own mortality and vulnerability.
This isn't a Broadway musical, nor a concert, or even a typical one man show. I found it a history lesson and a truly spiritual experience I will choose to repeat. Springsteen on Broadway is a fresh, powerful artistic achievement in its own right – from a star who's close to his 70th birthday, confronting his past and putting it all into a new and unique context. He doesn't confront the state of our current politics directly, but he says "Martin Luther King said the arc of the moral universe is long, but it bends towards justice. I think that's true. I believe that it is true. I believe that what we're seeing now is just a bad chapter in the ongoing battle for the soul of the nation."
Whatever page we are on in history, I am grateful this man, as I did, escaped his New Jersey roots and made himself into the icon he undoubtedly is. GO!