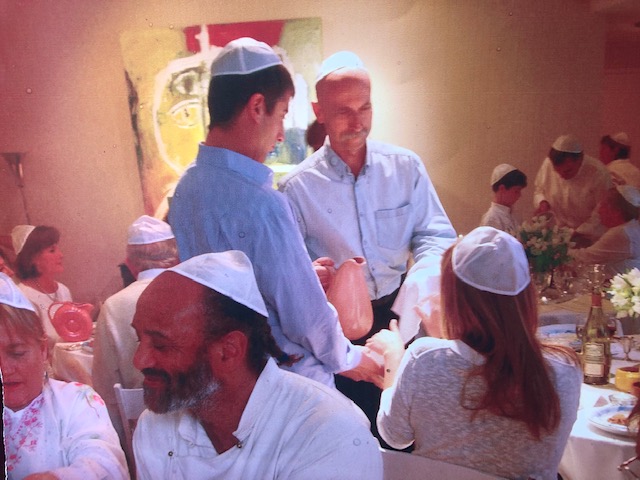 On this day Palm Sunday as a good Catholic little girl I learned this was holy week. Elders gave us little hand-made crosses from Palm fronds and reminded us of how Jesus walked through this week knowing in some way it would be his demise. Wednesday he'd be betrayed by Judas one of his disciples, on Thursday there was 'The Last Supper' memorialized in art work not only on the walls of the Vatican in Rome, but by many artists over the centuries since he was born. Good Friday we went to church and walked praying at stained glass windows telling the story of the stations of the cross. On Black Saturday we learned of his being nailed to a cross and left to die. Then lo and behold Easter Sunday proclaimed his Resurrection from the dead.
For the Jewish this season is Passover where residents put the blood of goats on their doors to keep their families from being exterminated. Passover is a celebration of spring, of birth and rebirth, of a journey from slavery to freedom, and of taking responsibility for yourself, the community, and the world.
Today as a recovering Catholic and member of several 'new thought' churches, with a worldwide pandemic going in that is keeping us from touching our neighbors, I am humbled to admit that this lockdown we are experiencing is a reminder to us all to go within, without the noise of everyday life and find ways to express the love and connection all the Christ stories are about.
Reverend James Mellon at www.globaltruthcenter.org and Reverend Deborah Johnson of www.innerlightministries.com used Facebook on social media to broadcast messages on zoom from their own homes, to remind us to have a resilient heart and find in themselves the god we seek from these ancient role models. Rev Mellon suggested we all use the Hawaiian term 'mahalo' meaning thanks or gratitude or the ever unfolding or bringing forth in the highest way possible our greatest good.
It is time right now to turn within and discover what our purpose in life is and Just Do It!!