All too real Look at Aging & Friendship
I've loved this Amazon series since its beginning season in 2015. Silly yet serious stereotypical same sex stuff between men, and relationships that deepen as two newly 'single' wo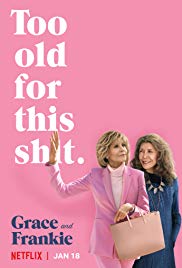 men are thrown to live together in a beach house in LaJolla CA.
We finished binging season and I hope not final five last night. Still stunningly beautiful Jane Fonda now 84 is still the straight business-like owner of Vibrant (that sells vibrators to older women) with her daughter by Martin Sheen. Judging by the look of her daughter's botoxed cheeks she's pushing 50 and doesn't want to look it.
At 73-77, hippie dippy Frankie (Lily Tomlin) is finally living her dream of being an artist. Ridiculous yet sublime issues with each other and their adult children are illuminated in easy to binge watch ½ hour episodes. The series illustrates realistically how fashion and love season everyone in the cast including adult children and potential new partners. Watch it from the beginning or tune into this surprising 5th season, you will not be bored and may even be surprised.