Ladies and Gentle-men, we had a really good 2nd Monday Invisible Grandparent meeting and I hope to see you again on August 12th.

Our mother organization that has 135 support groups in 50 states and 22 countries and in the 7 years it has been in operation 219 reconciliation stories, www.AGA-FL.org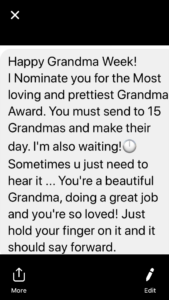 Here's a message a friend sent me about Happy Grandma Week that affirms our lovingness ,,, regardless of your situation it affirms the great job you are doing we all need that appreciation sometimes.
FYI josh@joshuacoleman.com is writing a book on estrangement and would like short (2 -4 sentences) summaries of your 'stories.' Give it a try. He will not use names or identify anyone; if you'd like to send it to me first for feedback e-me.
Oh and if you get HBO keep following BIG LITTLE LIES. The second season has Meryl Streep playing a grandma trying to get custody of her grandkids. Watch it if you can but it could make you uncomfortable.
So carry on and stay in touch ,,.